File a Flight Plan online
Specially for helicopters operating in the Hellenic FIR under VFR
Electronic filing of flight plans use the AFTN systems to transmit the plans as a message to stations affected by the flight. Helicopters operate mostly from the fields, that is ZZZZ. In situations like this it is impossible (yet) for the system to identify the location of the departure or destination location (On-line flight plan filing services like EuroFPL.eu serve international flights). In order to overcome this, there is the option to manually input the AFTN addresses. If the departure and/or destination aerodromes are airports with ICAO four letter code then the AFTN addresses are automatically selected by the system.
General guidelines on addressees for VFR flights below FL195
LGGGZFZX and LGGGZIZX for the south FIR sector (Athinai Information)
LGMDZFZX and LGMDZIZX for the north FIR sector (Macedonia Information)
LGGGYXYK (Military radars. This should be included especially when close to FIR boundaries)
LG**ZAZX (Replace the ** with the two letters of the aerdrome whose TMA is affected. ex. If the TMA of Tanagra a/p (LGTG) is affected the AFTN address is LGTGZAZX)
LG**ZTZX and LG**ZPZX (Replace the ** with the two letters of the aerodrome CTR and ATZ accordingly, for the airport of departure or destination.)
LGATZAZV (When operating within or below Athinai TMA)
Example: Departure Agios Kosmas (ZZZZ) and destination Kopaida airfield (ZZZZ)
DEP/AGIOS KOSMAS DEST/KOPAIDA
AFTN Addresses: LGGGZFZX LGGGZIZX LGGGYXYK LGATZAZV LGTTZAZX LGTGZAZX
Syntax for intermediate stop
When there is an intermediate stop in a ZZZZ landing site for a couple of minutes to embark/disembark passengers, the following should be written in paragraph 18. Other Information of the flight plan form:
DEP/AFIDNAI HELIPORT DEST/AFIDNAI HELIPORT RMK/INTERMEDIATE STOP AT SPETSAI 5MIN DISEMBARKING 2PAX
Or for multiple intermediate stops:
DEP/AFIDNAI HELIPORT DEST/NAFPLIO RMK/INTERMEDIATE STOPS AT SPETSAI HELIPORT 5MIN DISEMBARKING 2PAX PORTO HELI FOR 10ΜΙΝ EMBARKING 1PAX
More details on the correct way to fill out the form can be found here: Instructions for filling the ICAO flight plan form from EuroFPL.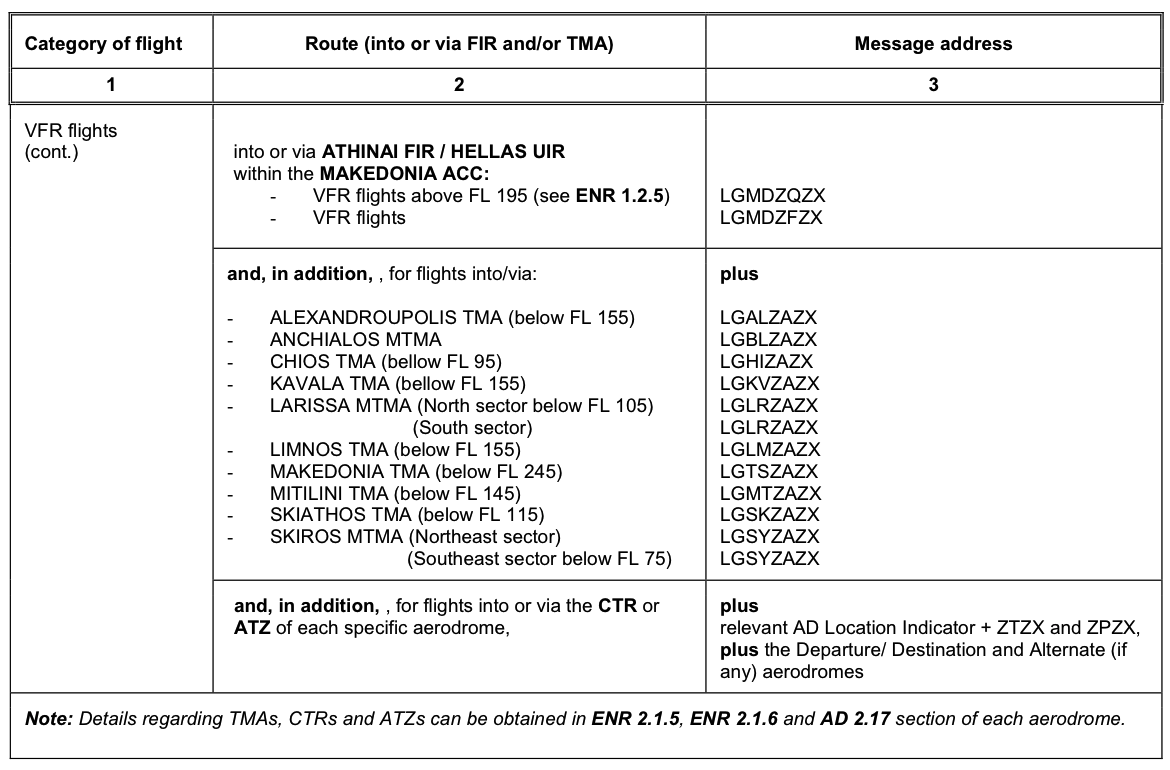 To file a VFR Flight Plan manually fill the ICAO Flight Plan Form (can be found here)
and FAX it to the closest NOTAM Office to your location.
Eleftherios Venizelos Airport NOTAM Office FAX(+30) 210 3532635, TEL (+30) 210 3533691
Makedonia Airport NOTAM Office FAX (+30) 2310 985150, TEL (+30) 2310 985151
Dekeleia Tatoi Airport (GAEP) FAX (+30) 210 8195656, TEL (+30) 210 8195657