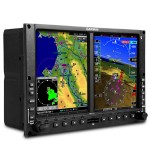 With the completion of Supplemental Type Certification (STC) for Garmin's G500H flight display system on the Robinson R44, this popular line of helicopters can now offer an affordable "glass cockpit" solution to its large community of operators. Available through Garmin Authorized Service Centers industry-wide, the Garmin G500H panel upgrade combines full WAAS GPS navigation with the latest in computer-aided situational awareness.
For greater precision and reliability, proven AHRS attitude/heading reference replaces old-style, maintenance-intensive mechanical gyros. And dual 6.5-inch LCD screens, mounted side-by-side in a single G500H bezel, put Primary Flight Display (PFD) and Multi-Function Display (MFD) capabilities right in front of the pilot for easy scanning and interpretation. Robinson R44 models that come equipped with a 10-hole instrument configuration will be able to install the G500H display directly into the existing panel—while those equipped with 7- or 9-hole formats will require a PMA'd Garmin replacement assembly optimized for the G500H.
With either option, the compact panel installation is designed to ensure optimum visibility outside the cockpit. Optional Garmin HSVT synthetic vision capability adds a 3-D virtual perspective view of terrain, traffic, airports and obstacles to the pilot's PFD. And a helicopter-specific database, included with the G500H, features over 7,000 heliports and nearly 30,000 additional low-altitude obstacles in addition to the already extensive database found in the fixed-wing G500 system. Other G500H system highlights include available XM Satellite Weather for the U.S.—or an Iridium-based Garmin datalink that provides access to weather, text messaging, and voice calls worldwide. Plus, there's also a video link option that enables the G500H MFD to serve as a FLIR or live-cam surveillance monitor.
For more information, see your nearby Garmin authorized dealer or visit the factory website.