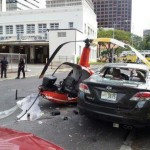 HONOLULU
A routine afternoon in Downtown Honolulu turned into one of fright and alarm just before 3:20 p.m. on Wednesday, when a small helicopter made a hard landing onto a city street, skidded nearly 50 feet, then hit a parked car.
The drama had a happy ending, however, as the pilot and her passenger walked away from the landing, and no one on the ground was injured.
The single-engine, two-passenger helicopter came down on Fort Street, just mauka of Beretania Street, shortly before 3:30 p.m. The pilot, 30-year-old Julia Link, was flying with veteran photographer Karl Hedberg of Aerial Photography Hawaii.
Hedberg said link did all the right things, and that the hard landing was almost perfect — except for a parked car on the right side of Fort Street.
"About the only time I felt my interior get a little shaky is after our skids were down, we did the spin, we hit the car, at that point, yeah," he said.
A cut to Hedberg's scalp was the only injury from the landing. He said he didn't need any stitches.
Hedberg, 71, has been an aerial photographer for more than 40 years. He and Link had just completed a shoot over the Punchbowl and Makiki areas when the engine apparently failed. "Let's see if I got all the shots," he recalled thinking, "because you can't go back up once you're on the ground. And that's when everything went silent."
Hedberg said the incident was a controlled hard landing. "The helicopter is called a rotor wing. And it forms a bit of a parachute as it comes down," he said. "The idea is to bring it down, flare out, as she did, drop the skids down, and set it down."
The pilot was not hurt, and no one on the ground was injured, despite the fact that there were plenty of people around.
"It came down low, came right over my car," said Patti Hookano, who had just turned right out of the Pali Longs Drugs parking lot. "And then of course I was going slow, wondering what was going to happen, then it just crashed right into that car right there and I pulled over."
The car's owner, a Hawaii Pacific University student, says he had just finished taking a final exam when he walked outside and found out his car had been wrecked.
"I just bought it a year ago," said Matthew Lau. "Now it's wrecked."
The Robinson R-22 copter is owned by Mauna Loa Helicopters. This isn't the first time the company has experienced a hard landing incident. In May of last year, another Robinson helicopter went down in Kona, resulting in minor injuries to two men.
The helicopter in today's downtown landing was towed back to the airport idea for further investigation by the Federal Aviation Administration into what caused the engine failure.
Copyright 2013 Hawaii News Now. All rights reserved.