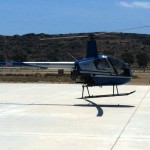 We would like to congratulate Franz Schmidt, student at Superior Air for his first solo helicopter flight today at Megara airport.
Keep it up Franz and always fly safe!
—————————————————————-
A message from Superior Air:
Superior Air is proud for Franz Schmidt , a student from Germany that today (05 June 2012) completed his first solo flight in an R22 helicopter. Franz is a young and very enthusiastic pilot that has shown great talent and skills from the beginning of his training.
He passed all the written tests for the PPL at his first attempt while all the instructors that have flown with Franz consider him to be an ''above average'' student. We are pretty sure that he will amaze us when the time comes for his ATPL Theory test as well. Franz stated immediately after his solo flight ''I felt happy , amazed , a bit scared and falling in love , all in the same time when I was flying alone in the R22''.
Superior Air has already trained students from 12 different countries including England , the Netherlands , Turkey , Nigeria , Singapore , Italy , Malaysia , Syria , Austria , Switzerland etc. for the purpose of obtaining an airplane or helicopter ATPL license and the number keeps growing. Franz's first solo flight is an important reminder that our country can safely train pilots from around the world providing a unique environment and the highest quality standards around Europe.
Once again the Superior Air team thanks Franz for choosing us to make his dream come true and get his commercial helicopter pilot license at Superior Air. Enjoy your new Superior Air golden wings Franz and fly safe!
—————————————————————-