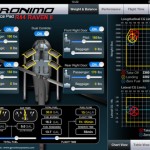 This is a remarkable iPad application set for calculating the weight & balance for helicopters with great graphical environment. Not only you can calculate easy the weight & balance but also the performance of the helicopter in a given situation. MUST have for private and commercial helicopter pilots.
Available for the following helicopter types: R22 Beta, R44 Raven, Astro, R44 II, AS355 F1, AS355 F2, AS355 N, AS350 B1, AS350 B2, AS350 B3.
The developers promice for more types in the short future like B206, EC120, EC135, EC155, A109 etc. Find out more at the developers site Gyronimo for Aviators.