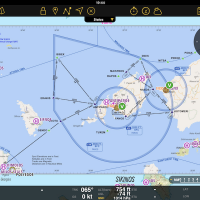 New free updated charts for "Hellenic Terminal Areas and EasyTAXI Charts" are available for Air Navigation Pro users. The updates cover the Terminal Areas of the following airports:
LGKO
LGKY
LGIR
LGST
LGTL
LGSK
We also added the new VFR routes of PAROS TMA.
To update goto Configuration > Add-ons (Map Store) > Installed products
After the automatic check for updates you will notice the sign [6 updates] (in red color) just before "Greece Hellenic Terminal Areas and EasyTAXI charts" Touch and select Update on the next menu" to download the updated files.
IMPORTANT:
After the update completes press on the small (i) on the right of "Greece Hellenic Termional Areas…"
On the next screen you will notice that all Files are marked with a green dot. That means that the files are current and the update was successful. Except two files marked with a gray dot. LGNX and LGPA. Just touch and select install. These are two new files for the CTR of LGPA.